Our dentists working to your smile
Hsct Package
Most Affordable HSCT for MS Treatment Package (30,500 US $) in India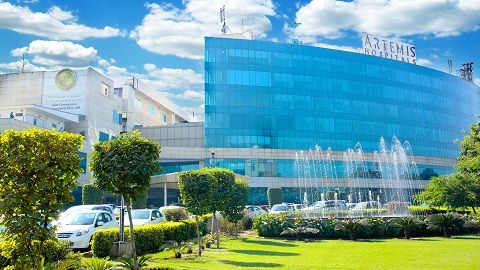 Complete HSCT treatment is done during 30 days stay at World Class hospital in India. No outpatient accommodation stay ensures best medical attention and care and low risk of infection in the Triple Hepa Air Filtered Hospital rooms. Read our recent Patient Testimonials below to know about the excellent patient care and outcomes delivered to more than 500 MS patients by HSCT India.
HSCT Package Cost offered by Artemis Hospital includes all costs for hospital stay up to 30 days, Doctors Fee, Tests and Consultations, Medicines & Consumables, Neuro-Physiotherapy and also Food and Laundry for both the patient and the attendant, Airport pick up and Drop back. etc. No additional outside stay or hidden extra charges.
Who can be taken up for HSCT for Autoimmune Disease at Artemis Hospital in India ?
Patients with MS having a Relapsing-Remitting course, Secondary Progressive (SPMS), Primary Progressive (PPMS) or Progressive Relapsing (PRMS).
At Artemis Hospital we accept patients having high EDSS score. Patients after arrival at Artemis hospital undergo detailed medical evaluation. A multidisciplinary team of medical experts then reviews and decides suitability to go ahead with HSCT.
We invite patients having a high EDSS score to come to Artemis Hospital, India and go through the Pre-testing Program to decide their eligibility for HSCT.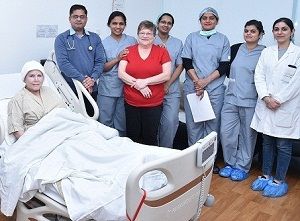 All Inclusive HSCT Treatment Package at most Affordable Cost.
HSCT Package Cost (30,500 US $) Includes –
1. Cost of all Tests including MRI and Consultations for Pre-HSCT Medical Evaluation on in-patient basis.
After arrival at New Delhi Airport the patient is received by an Artemis Hospital Executive and accommodated at a private room at the hospital where the attendant is also staying with the patient. During the first 4 days tests and consultations are done. The patient and attendant are staying in a Triple Hepa Filtered room at the BMT Isolation Ward.
2. HSCT patients are admitted to hospital straight from the Airport and discharged straight to Airport.
3. Duration of 30 days for stay of both patient and attendant in Hospital room equipped with HEPA Filter with Triple Level Air Filtration for high level of infection control.
Real Patients– Real Stories